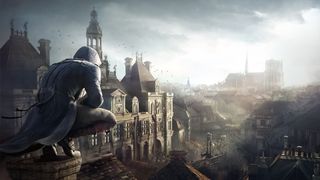 Ubisoft today announced that it'd be giving away Assassin's Creed Unity away for free, as a tribute to the damaged Notre-Dame and to give PC gamers "the chance to experience the majesty and beauty of the historic cathedral " in the wake of the fire.
In light of Monday's events, Ubisoft will also be donating €500,000 to help with the restoration and reconstruction of the Cathedral Notre-Dame which was devastated by fire caused. They encourage others to donate as well.
In addition, they want to give everyone the chance to experience the majesty and beauty of Notre-Dame the best way they know how. For one week (until April 25), PC users will be able to download Assassin's Creed Unity for free. This entry into the game lets players explore late 18th-century Paris during the French revolution, including a re-creation of the Notre-Dame Cathedral.
In solidarity with everyone moved by Monday's events we're donating to the restoration of Notre-Dame & giving you the chance to play @AssassinsCreed Unity on Uplay for free.

Details below:

— Ubisoft (@Ubisoft) April 17, 2019

"Ubisoft wants to give all gamers the chance to experience the majesty and beauty of the cathedral", the publisher's statement reads. "You can download Assassin's Creed Unity on PC for free here, and you'll own it forever in your Uplay games library."
"Video games can enable us to explore places in ways we never could have otherwise imagined," the company said. "We hope, with this small gesture, we can provide everyone an opportunity to appreciate our virtual homage to this monumental piece of architecture."
Assassin's Creed Unity was set during the French Revolution, a time in which the cathedral was vandalized and burglarized. A major set-piece takes place in Notre-Dame — protagonist Arno Dorian stalks and assassinates the Templar Sivert there.
Also Read : PUBG Banned In  Nepal