Are you thinking about starting a blog? Then you are at right place   . blogging is fun as well as interesting. If you are passionate and creative in writing why not give a chance in blogging, and if you are able to build an audience then you can earn a passive income by just working from home. Blogging is a wonderful activity, whether you're doing it for business or pleasure, and can even have a significant positive impact on the world around you. Today I am going to show you how to start a blog quickly: Everything from domain/hosting to start making money from it. If you follow these tips you'll hopefully save a lot of time and valuable energy.
At first Why start a blog?
Make money while working from home:  I make a part time earning from  blogging and many others are making full time earnings. This is one of the best platform to  express your creativity and to earn a passive income from it. Although making money blogging is harder for beginners, there is a high success rate if done correctly.
Get more exposure for your existing business: A blog gives anyone–from individuals to large companies–the ability to reach a large number of people at very little cost.
Become a published author: It's no secret. These days, publishers rarely work with authors who don't have an online presence. If the author have decent online audience then it is likely to generate more sales .The reason is simple: it's a lot easier to sell books to people who already know you. A blog is one of the easiest places to start.
Just write. If you have keen interest and want to write, share your story, encourage others and build a community, a blog is a great place to do that. It will help you make connections with more people who cares and loves your writings.
Now if see yourself in any one of these let's get into next step…
How to Start a Blog
The basic steps to start and run a blog
1.  Find your niche
2. Choose a blogging platform
3. Find a host
4. Pick a domain name
5. Install WordPress
6. Design & use your blog!
……………………………………………………………………………
Step 1. Find your niche
This is important. What  type of posts you are willing to write. Whether it is a tech related, fashion, news, finance etc. it is on you which niche you want to write on. If you are interested in technology , you can write your thoughts on it Similarly it applies to all other niches.  Many beginners make huge mistakes on selecting correct niches for their blogs. If they saw someone earning big bucks from a fashion blog, they would try to follow them whether they  know or not about fashion.  I'll hope that you won't make such mistakes after reading  this. 🙂 😀
Step 2. Choose a blogging platform
Choosing a correct blogging platform is the most important descision in your blogging journey. There are  many  services you can use to start a blog or website. You may be tempted to use a free service, but know you'll be limited, and in some cases, quite severely. You get what you pay for, as they say. Using a paid-for service isn't expensive. And In my opinion it is best to start with a paid service. It's a no- brainer in my opinion.
……….What is the best blogging platform?
There are plenty of available blogging platforms out there, WordPress is, by far, the most popular (source). This is for good reason.
I use WordPress myself and appreciate its flexibility, functionality, ease of use and large community of people who share tools and ideas. It's an excellent choice. And don't worry, if you want a website without a blog, WordPress makes it easy.
Caution!:  Within WordPress, you have two options. People are often confused by the two so I'll mention them here:
Hosted WordPress blogs are often referred to as "WordPress.com blogs."
Self-hosted WordPress blogs are often referred to as "WordPress.org blogs." ***(recommended)***
A self-hosted WordPress  costs a little bit of money, but will give you much more control and flexibility. It's absolutely what I recommend.
The steps below will help you set up a self hosted wordpress blog.:
Step 3: Find a host
A host is the space you keep your website on the web. Simply it is the where all your website data, blogs will be stored and can be found from any place of the world through internet.Now, if you are ready to start your blog , click here to go to bluehost site  ( this link will open in a new window )
Once the page opens, click the green Get Started Now button.
Choose a plan
Choose the plan you'd like to start with. I started with the Basic plan and now have upgraded to Plus plan . I would recommend you to start with  Plus or Prime plan because you get more unlimited features.
Note that all plans come with one free domain (for one year) which is good. Your domain is your web address. I'll talk about choosing a domain in next step .
If you are in a tight budget( Most of us, including me have faced this), go ahead and choose the Basic plan. You can upgrade at any time.
Click one of the green "select" buttons to move to the next step.
Step 4. Choose a domain name
A domain is a web address for your  blog. For example, onetechminute.com is my domain. You may or may not already have a domain. To have an existing domain, you would have registered it with a domain registrar, like GoDaddy or Namecheap
On this screen you'll either choose a brand new domain (left side) or enter a domain you registered previously (right side).
If you don't have a domain, enter a new domain name on the left. (See tips for choosing a domain below). Make sure .com or the correct extension of your choice is selected from the drop down menu beside it.
If you've already registered a domain name, enter it on the right (don't worry, it won't mess things up if you're using the domain elsewhere, this only identifies your account for now).
Tips for choosing a domain name:

while registering a new domainyou is suggested  to make it easy to remember and easy to share!

Go with a .com whenever possible. People always assume .com before other extensions like .net, .org, .co or others.

Make it easy to say and spell.

Don't include hyphens, numbers, obscure terms or confusing strings of words.

If you're not sure what to use, your name is a safe bet to start.

Be creative or try a phrase if you're having trouble finding an available name.
Enter your account info
On the next page, enter your account info correctly. Make sure you use a working email address because this is where your login information will be sent.
Select an account plan
Under Package information select your desired plan based on how far in advance you want to pay. It is more cost efficient if you pay in advance for three years than compared to paying monthly or yearly.
Should you go for extras?
If it is me, I always skip the other add-ons extraas except the Domain Privacy Protection. (If you selected the Prime package, it's included.) This protection keeps any personal information private. The only time I would skip domain privacy is if you are using a business address and don't mind if it's visible to anyone who looks up your domain. If you're using your personal contact info (home address, phone, etc.) to register your domain, I highly recommend domain privacy. Select the add- ons you want to add to your site . The total is the amount you'll pay today. You won't have to pay again for 12, 24 or 36 months, depending on the account plan you chose. 🙂
Enter your payment  information
Fill in your billing information correctly,confirm that you've read the fine print and then click Submit.
Skip the upgrades
Continue on to complete your purchase. You'll be asked if you want to add any upgrades. I just skip them.
Check your email for login info
After completing your purchase, check your email. You'll find a welcome email from Bluehost with your control panel (cpanel) login info. Keep this information for future reference.
Log in to your Bluehost cpanel
Go back to Bluehost and click the login button in the top right corner of your screen. (Alternatively, you can use the link to your cpanel contained in the welcome email you received above.)
Select the "hosting login" (not webmail login) tab if it's not selected already. Use your Google account to login or enter your cpanel login info from the welcome email.
Note: If you had used an existing domain in step 5 , then you need to change the nameservers of your domain. To change the name servers where your domain is currently registered, first note your new Bluehost name server information:
ns1.BlueHost.com
ns2.BlueHost.com
Next, go to the registrar where your existing domain is currently registered (Namecheap, GoDaddy, etc.). You will need to enter the above information in the appropriate place. This varies among registrars so I recommend you contact them for help them if it's not clear.
Step 5: Install WordPress
Once logged into your cpanel, click  on the Install WordPress icon under Website (or Website Builders) tab
Continue Installing WordPress
Now you'll get a window that looks something like this. Click the Continue Installation button  to begin the WordPress installation process.
Choose where to install WordPress
On the next screen, choose the domain you want to install WordPress on. If the domain you chose during signup doesn't automatically appear, simply click "Domain" and you can select it from the list.
Leave the directory field blank.  Click Next.
Enter your WordPress user info
Enter your Site Name or Title (e.g. Pratik Kafle, Pratik's  Blog, OneTechMinute, etc.). This is different than your domain which ends in .com or something similar.
You may also be given the option to choose an Admin Username (do not use "admin" as your username). Choose a password. These will be what you use to login to WordPress once it's installed.
Enter your email address (again, all site information will be sent here). Read and agree to the terms. Complete your installation of WordPress. 🙂 😀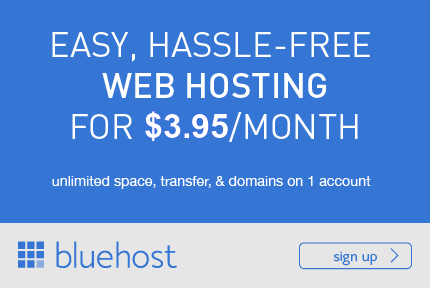 Save your WordPress login details
After WordPress has been installed, you should see the indication that WordPress was installed successfully. Take note of the information to access your new WordPress site. This information will also be sent to you via email.
Now. Before proceeding.. let's look back ath the steps. Until now you will have received two welcome emails. The first is the login info for your Bluehost hosting account. The second is the login info for your WordPress account. Keep both, although from this point forward, you'll be using your WordPress login information much more frequently.
Congrats.  Now You have successfully created a blog. Whether you registered a new domain or transferred an existing one, you will know you have been successful if you can type your domain into any browser and your site appears. 
Step 6. Design & use your blog!
Congratulations! You are now the proud owner of your  self-hosted WordPress site. There are many things you can do at this point.  Blogging is about learning as you go and tackling things as you move on.
Now you've set up your blog, it is time for you to write your ery first blog post.
Selecting your WordPress Theme
All the visiual elements and interface of your blog is controlled by themes. If you now go to your blog url it may show something like this :
This is not very attractive to your  potential audiences.
Customizing the look and feel of your blog is by far one of the most important and rewarding part in the journey of creating your WordPress site.  There are thousands of pre-made WordPress themes that you can install on your site. Some of them are free, while others are paid. With free themes you will get much more features while with the paid premium themes, you will have the  whole control on your theme as well as you will get security updates regularly.
You can change your theme by going to your WordPress dashboard and clicking on Appearance » Themes..
click on the Add New button.
On the next screen, you will able to search from the thousands of free WordPress themes that are available in the official WordPress.org themes directory. You can sort by popular, latest, featured, as well as other feature filters (i.e industry, layout, etc). when you have found the theme you liked , bring your mouse on it, and it will show the Install button. Click on it and wait for the theme to be installed. After that, the install button will be replaced with an Activate button. You need to click on it to Activate the theme.
Once you have installed your theme, you can customize it by clicking on the Customize link under the Appearance menu.
Creating your first blog post
To write your first blog post, click on the Posts » Add New menu in your WordPress dashboard.
You will see an editor area where you can write your first blog post.
After you finished writing ,go ahead and click on the Publish button on the right to publish your first blog post to the world.
Step 7. Setting up Google Analytics
Google Analytics helps you see how many people are visiting your blog, where they are coming from, and what are they doing on your website?
It is recommended to install Google Analytics when starting your blog, so you can see how much your blog has grown over time. If you are getting hard time  installing google analytics we've summed up everything below 😉
First, you need to visit Google Analytics website and sign in using your Gmail account.
Once you are logged in, you can go ahead and sign up for a free Google Analytics account.
You will be asked to provide your information and website URL. After that, you will be provided with your Google Analytics tracking code.
Now go back to your WordPress admin area to install and activate the MonsterInsights plugin. It is the free version of the best Google Analytics plugin for WordPress, and it is the easiest way to add Google Analytics on your site.
Upon activation, you need to visit Insights » Settings page to configure the plugin settings.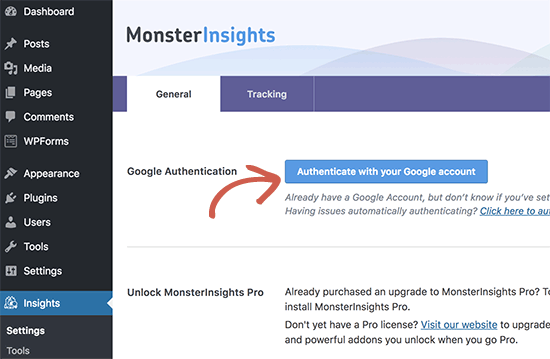 On the settings page, click on the 'Authenticate with your Google account' button to connect Google Analytics to your WordPress site.
Follow the onscreen instructions to complete the setup. Once done, you will be able to see your website analytics report straight from your WordPress dashboard under the MonsterInsights tab.
 Optimize Your WordPress site for SEO
Most beginners don't optimize for SEO when creating a blog. SEO or search engine optimization helps users find your blog in search engines. If you want more traffic, then it's important  that you optimize your blog for SEO from the beginning.
To get started, first you need to install and activate the Yoast SEO plugin. It is the complete WordPress SEO plugin that will help you optimize your blog.
Upon activation, you will see a new menu item labeled 'SEO'. Clicking on it will take you to the plugins settings page.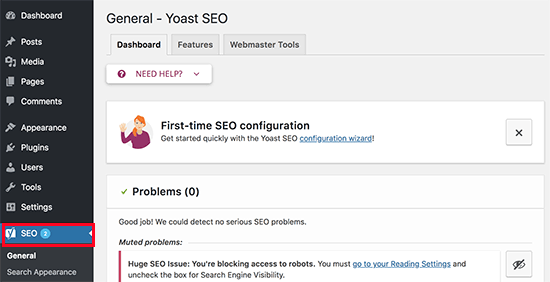 The plugin comes with a quick configuration wizard to help you walk through the set up.
Step 8. Making Money From Your Blog
Now that you've built your blog and customized it to your liking, you are probably wondering how can I actually make money from my blog?
There are actually a lot different ways to  monetize your blog. However as we all know that money doesn't grow on trees ,  earning money online is not so easy so there is no such thing as a get rich quick scheme.
There are several methods to earn money from  your blogs  . You might already have  googled so many other sites and articles. Well here this guide is to make online earning simple and effective as possible . The methods listed below are 100% legit and I'm using it right now.
Don't be fooled by the pictures of expensive cars and mansions because those are all fake.
Here are some of the best ways to make money from your WordPress blog.
1. Google Adsense
What is Google Adsense?
Google Adsense is a popular advertisement product from Google. It lets you monetise your website blogs or videos.
It is as simple All you have to do is to Signup up, paste  ad code on your website get  approved and yeah…!!! you are ready now. However there are certain rules and regulations which you must follow to use adsense services which if you not follow, Your account can be terminated without any prior notice.
It is the largest advertising platform for bloggers and publishers. Acting as a middleman between you and the advertiser, Google allow advertisers to bid for keywords matching your content. This allows you to get the best rates possible for the ads.
All you need is a blog with quality contents  if you have your own blog or website and you got good traffic then you can use Google Adsense to your blog or website and make some  money . With AdSense, you can earn a lot of money  but it depends on traffic. If you are the just beginner and you don't have so much traffic, then you need patient for traffic first before making money. Once you get a good amount of traffic then you can make $100 -$500 a month. No one can say how much we could make through AdSense it all depends upon ad clicks and traffic you got to your site. If you could provide good content and are able to attract more traffic to your blog or website you can earn more than $1000 per month and even $1000 per week. Every thing depends on traffic, clicks on ads.
 2. Affiliate Programs
The next best way to earn money online is by promoting and selling others product or services from your site. There are lot of Affiliate Programs around in internet. You get paid commissions when someone buys or uses the products or services from your affiliate  link. There are the lot of affiliate network and you can join them and make money from the affiliate program. it depends on traffic and number of sales that you made. This is also the same thing as offline shopping just think you the agent and your selling goods online. People are making $500 – $1000's in day month or year.
The key in affiliate marketing is to recommend high-quality products and services that you already use and trust. There are plenty of affiliate marketing plugins and tools for WordPress that can help you make more money when promoting affiliate products.
Some of the Affiliate programs are
All of these are Affiliate programs. All you have to do is to Sign Up for Affiliate membership and paste the codes or links on your sites and focus on increasing your traffic. If you do it in right way you can make tons of cash sitting in comfort of your home. Many people who are using hese programs are earning more than 500$ in a day month.. Just build your website, Get Traffic and wait your bank account to be increased .
---
Frequently Asked Questions (FAQs)
        Below are the answers to the most frequently asked questions about creating a blog.
Can I create a blog without WordPress?
Yes, there are various other blogging platforms available like Blogger, Squarespace , Tumbler etc. but   WordPress is by far the best solution in the market to make a blog with complete ownership and freedom.
Can I create a blog without hosting?
No, that's not possible. Web hosting is where your website files are stored. All websites need web hosting.
How much does it cost to start a blog?
The cost depends on the add-ons that you buy.  Also the hosting provider you choose may  results in  difference in costs .
Can I create a blog without my parents knowing about it?
Yes. You can make your WordPress blog private and hide it from the internet.
Can I start a WordPress blog and make money with Google Adsense?
Yes, you can use your WordPress blog to earn money from Google AdSense. We have a step by step guide on how to add Google AdSense in WordPress.
How can I create a blog and remain anonymous?
If you want to have a public-facing blog but want to remain anonymous, then you need to make sure that your domain has WHOIS privacy turned on. Often people use a pseudonym / nickname to write under. You should also create a unique email just for your blog. It goes without saying, don't post your pictures or anything on the blog.
Comment if you have some more question about this . we will get you on that topic
Lastly, If you have any questions related to this or if any problem occured during following these steps feel free to contact us through this contact form .. I will be happy to help my readers on getting started on wordpress.
Ihope that you found my tutorial on how to start a WordPress blog to be helpful.
If you liked this article, please share this so that your friends so that they can learn more about  how to start a blog . You can also find us on Twitter and Facebook.