If  you are a passionate photographer and have outgrown in your point-and-shoot camera you might be  feeling   to take your passion to the next step, then an entry-level DSLR Camera is the obvious choice. You might also consider a mirrorless  camera as an alternative, although you won't find one with same features at the same price as of a DSLR.
DSLR Camera provides a big lift up  in image quality from a compact camera,  more manual control and the replacable and changable lenses to tackle a huge variety of projects. Obviously, the more features you want, the more you'll pay, but do you actually need them?  The top camera in the list is one of the cheapest on the market, but still offers impressive performance and image quality,  enough features to handle most assignments, especially if you're still learning.
If you're buying your first DSLR Camera, it is recommended  to go for a 'kit', which generally includes the camera body along with an 18-55 mm lens. This covers a broader zoom range, perfect for everything from landscapes to portraits, but that's just the start.
The key advantage of DSLR Camera over compact cameras is that you can add to your kit with, for example,wide angle and telephoto lenses, a flashgun, and other accessories – to make the most of whatever types of photography you're into.
Canon and Nikon provides the largest collections of DSLR  Camera lenses, but brands like Pentax and Sony also offer decent ranges. You're not limited to own-brand lenses either, with the likes of Sigma, Tamron and Tokina selling quality lenses at prices that are often lower than the camera manufacturer's  own equivalent lenses.
1. Nikon D3300
It's  not a  expensive entry-level DSLR, but we think it's the best.
Nikon D3300 key features
  24.2 MP DX format (APS-C) sensor
  Expeed 4 processor
  Fixed 3.0″ 921k-dot LCD
  1080/60p HD video
  5 fps continuous shooting
  700 shot battery life
The D3300 sits at the bottom of Nikon's entry-level series.  This entry-level DSLR Camera  is still incredibly popular for those looking to take the next step in their photography journey.. The 24.2 MP sensor resolves bags of detail and like much like pricier Nikon DSLRs, it does away with an anti-aliasing filter to maximize image sharpness. his is also a very easy camera to live with. Its clever Guide Mode is a useful learning tool that gives real-time explanations of important features, whilst the collapsible 18-55mm kit lens is great when you're on the go.
Although of these breathtaking specs in this entry level camera.you won't get an articulated touchscreen display or Wi-Fi connectivity, but Nikon does make a cheap plug-in Wi-Fi adaptor if that's a deal-breaker for you.
You can get this for about: $446.95
Buy from this link to get additional offers and discounts :
Nikon D3300 24.2 MP CMOS Digital SLR with Auto Focus-S DX NIKKOR 18-55mm f/3.5-5.6G VR II Zoom Lens (Black)
2. Canon EOS Rebel T6i / Canon EOS 750D
Advanced Entry level with powerful attributes
EOS Rebel T6i (750D) key features
 24.2MP APS-C CMOS sensor
  19-point autofocus system
  Hybrid CMOS AF III focus system (live view)
  7560 pixel RGB + IR metering sensor with skin tone detection
  3″ fully articulating touchscreen LCD
  5 fps continuous shooting
  1080/30p video
  Wi-Fi with NFC
Nikon doesn't have the top spots in our line-up all to itself because by paying more cash will get you a lot more camera. The EOS Rebel T6i (Called the EOS 750D ) packs in a 24.2 MP sensor that delivers stunning image quality with impressively low noise levels at high ISO sensitivities. The Rebel T6i also receives much-improved autofocus and exposure metering systems over Canon's older T5i/700D, as well as built-in Wi-Fi with NFC pairing. Although outwardly similar to its T5i predecessor, that does mean you get the same articulating, touch-sensitive screen to enjoy. It pips the Nikon D5500 to second place thanks to more comprehensive controls and marginally superior image quality.
You can get this for about : $749.00
Get your canon rebel t6i (EOS 750D) here:

3. Nikon D5500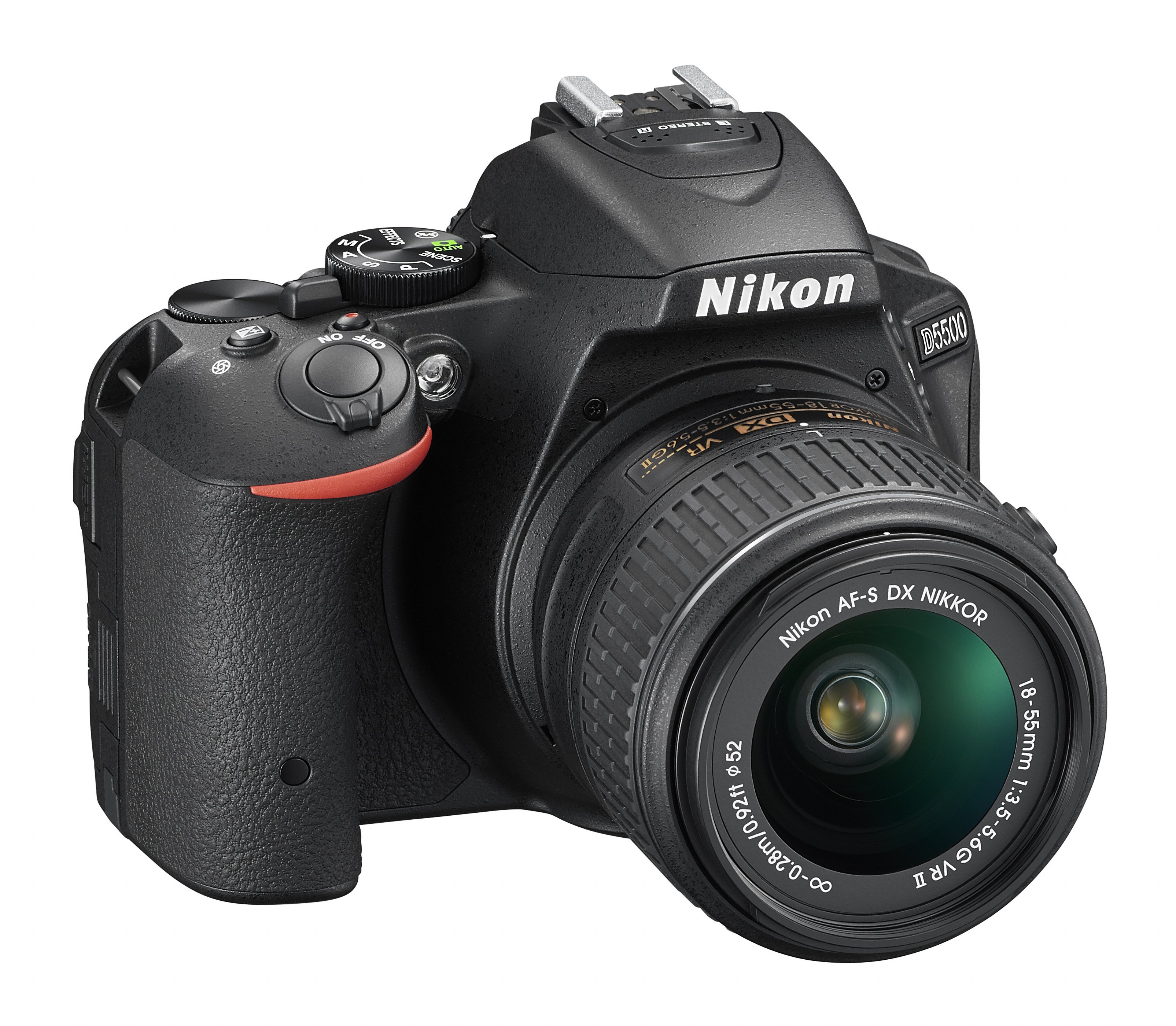 Choosing between Canon and Nikon is tougher than ever
Nikon D5500 key features
  24.2MP CMOS sensor with no optical low-pass filter
  Ultra-compact and lightweight body
  Multi-CAM 4800DX 39-point autofocus system
  2,016-pixel RGB metering sensor, used for 3D subject tracking in AF-C
  Sensitivity range of ISO 100-25,600
  5 fps continuous shooting
  1/4000 sec maximum shutter speed
  3.2″, 1.2M dot fully-articulating touchscreen LCD display
  1080/60p video with clean output over HDMI and Flat Picture Control
  Built-in Wi-Fi
The Nikon's  D5500 competes directly with Canon's EOS Rebel T6i / EOS 750D at the upper end of the entry-level DSLR camera market. Where Nikon's D3000-series cameras are designed as cost-conscious introductory DSLR Camera, the D5000-series is preferable if you want to get more creative. The D5500 supports a touchscreen control and there's also built-in Wi-Fi – but it's a pity that GPS hasn't been continued over from the D5300, and live view autofocusing speed is slow..
You can get this for about: $696.95 
Get yours here:

4. Canon EOS Rebel T6s / Canon EOS 760D
The Greatest Rebel Of All
EOS Rebel T6s (760D) key features
  24.2MP APS-C CMOS sensor
  19-point autofocus system
  Hybrid CMOS AF III focus system (live view)
  7560 pixel RGB + IR metering sensor with skin tone detection
  3″ fully articulating touchscreen LCD
  Eye sensor for use with optical viewfinder
  LCD information display on top plate
  Quick control dial on rear
  5 fps continuous shooting
  1080/30p video
  Servo AF in live view
 Wi-Fi with NFC
Canon launched two updates to the EOS Rebel Series – The EOS Rebel T6i / 750D and The T6s / 760D. Internally  , the EOS Rebel T6i / 750D and T6s / 760D are very pretty much identical, but it's the exterior controls where differences start to appear, notably the addition of a rear thumbwheel and top plate LCD display.  For newer users, the T6i is better, but if you're looking for lightweight DSLR Camera with aadvanced set of features, then you might want to  go  with the T6s.
You can get this for about: $749.00
5. Nikon D5300
Nikon D5300 key features
  24.1MP DX format CMOS sensor, without OLPF
  EXPEED 4 processing
  ISO 100-12,800 standard, up to 25,600 expanded
  5 fps continuous shooting
  39-point AF system, 9 sensors cross-type
  2016-pixel RGB metering sensor
  1080p60 video recording, built-in stereo mic
  1.04M dot 3.2″ vari-angle LCD monitor
The D5300 was around for little more than a year before the D5500 technically replaced it.  It shares the same 24.2MP sensor with an identical maximum ISO 25,600 sensitivity as the D5500, whilst the D5300's EXPEED 4 image processor and 39-point autofocus system have also been carried over to its replacement. Whilst the D5300 doesn't provide the ease of touchscreen control, you do get GPS instead. The D5300's 600-shot battery life has since been beaten by the D5500, but it'll still be against of  a Canon T6i / 750D.
You can get this for about: $543.00.
6. Nikon D3400
A Great Entry-level DLSR needs a bit of price down
Key features of Nikon D3400
  24MP APS-C CMOS sensor
  11-point phase detect auto-focus system
  1080/60p video capability
  Fixed 3″ 920k-dot LCD screen
  5/fps burst shooting
  Bluetooth LE for image transfer
The updated version o, Nikon D3400 is almost identical to the D3300 model.  It's an entry level DSLR Camera targeted toward first-time ILC shooters and those who are ready to move on from their smartphones to a more advanced shooting platform.  The camera is built around the same 24  MP APS-C CMOS sensor found in its predecessor along with an 'EXPEED 4' image processor, Full HD video capture and an 11-point autofocus system. Sadly the camera doesn't have Wi-Fi, but it does have Bluetooth LE connectivity for transferring images from the camera to a smart phone via the 'SnapBridge' app.
buy your Nikon D3400 Combo here:

Also try this: